I picked up this BRM 5 grain a few months ago, and haven't broken it out yet.  I've just been eating down my stockpile of plain oats :)
nuuu-treee-ents
nom.nom.nom. ingredient love
[Are you wondering why I didn't eat my overnight pumpkin oats?  Well I was fu-reeezing this morning and wanted my warm creamy oats fresh off the stove.  Don't worry they won't go to waste!]
5-Grain Pumpkin Oats
1/3c BRM 5 grain hot cereal [or regular rolled oats]
2/3c unsweetened vanilla almond milk
1/3c water
1/2 banana [sliced and cooked over medium for 1-2min before adding oats + water]
1/2t cinnamon
shake of nutmeg + ginger
1/3c pumpkin [stirred in at the end]
toppings:  ~3T chopped walnuts + 2t pnut butter + 1/2t sucanat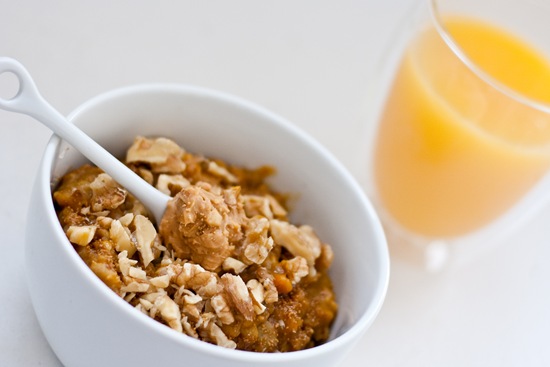 Yummmmers!!!  LOVE walnut toppings :)  I think walnuts are my FAV nut…but I tend to eat almonds more often.  I also prefer plain/unroasted almonds over roasted/salted.  I love the natural raw almond flavor!  My least favorite nuts are:  macadamia, hazelnuts, brazil nuts  [yak!]
Do you guys ever feel like your body gives your cues on what it wants, or do you all just think I'm crazy.  Instead of coffee my brain was saying OJ OJ I need some vitamin C!  Which was probably true + it tasted refreshing and delicious and complemented the oats really well.
Slurrrrp.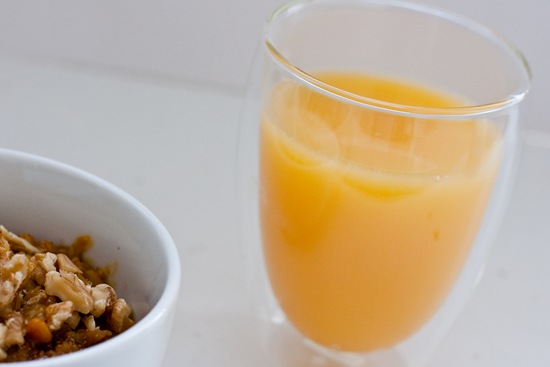 Keep that pit in!  This was covered in the fridge overnight and here is how it looked today.  Not too shabby!!  Tasted like avocado perfection.
Salad loooooooove:  greens + steamed broc and asparagus + 1/3 avocado + 1 chard stem + pepitas + my easy "go to" balsamic dressing
Promise I wasn't trying to be matchy matchy with the colors!!  Completely random…although totally love it ;)  Creamy pumpkin yogurt [oikos + pumpkin + cinnamon] topped with a few walnuts.  Gobbled it UP…or down I guess.
Soooo, I thought adding the rainbow chard stem would be fun and tasty.  You all know I like "earthy" tasting things and looove my veggies.  Well this idea was Totally Terrible. 
Word to the wise –> uncooked chard stems taste like weeds smell…BLEGH
WHAT am I doing!?  Listening to what mama said of course!  Not my mama…Mama Pea silly!! 
This is not a joke.  Lime + Chocolate COOKIES.  I saw this recipe and HAD to make them.  I also happened to have all of the ingredients on hand.  They took about 10-15 minutes to whip up and only ~12min to cook.  You know I love interesting food combinations and am NOT afraid to try something new. 
Here's to something NEW! Do you like a lot of variety in your life? Do you get excited trying new things?  EYE DO CAN YOU TELL!?
In love with the lime color!!!
All mixed up.  The consistency seemed a bit like pancake batter…a little too wet!  I had to make a few small adjustments for higher altitude baking..or so I thought.  It might be different for vegan baking when things don't have oil/eggs/etc.  But then I didn't want to add more flour and risk over-mixing the batter. 
So I just plopped them on the cookie sheet as is.  They weren't too runny, but definitely not stiff like a normal choco chip cookie dough.
So, how did they taste?  Well, I stupidly adventurously changed the recipe a little bit, per my usual and that was probably not a good idea.  I don't have the best handle on vegan baking yet, so I should have listened more closely to mama!  hehe
Mama Pea's cookies looked thicker than mine and more dense.  She used maple syrup in her recipe but I wanted to use brown rice syrup instead.  This is due to the fact that usually you can sub those out for one another and BRS is much cheaper and will help curb the "sugar high + crash."  Well, I'm pretty sure the maple syrup would have given these a lot more flavor.  However, when the recipe called for sugar I used sucanat which has a ton of natural flavor to it [caramel/maple].  So who really knows!  I did like that it wasn't an overly sweet cookie.  Perfect sweetness for my palate. 
Once they cooled the flavor got better!  Yah yah, quit talking about sugar and get to the whole LIME thing!  It was an interesting combo to say the least.  I ended up eating THREE to figure out if I liked them or not..hehehe :) 
My conclusion:  I liked the crazy flavor contrast.  You could definitely taste lime + chocolate.  However I'm not sure I was a big fan of the actual cookie.  I think the oatmeal may have thrown me off.  This may also be due to a few changes I made though.  These cookies fell apart pretty easily.  I think maybe a flax-egg would help hold it together more?  I will definitely give them another go-around!!  Maybe I'll try mama's basic choco chip cookie recipe and just add the lime to that.   We'll see!  For some reason I am thinking cranberry/lime/almond might be a good combination.  Thoughts?  Although, I usually am not a fan of dried fruit in cookies..so we'll see!  Ooooh or apricot/lime/almond!! 
I am really enjoying vegan baking for whatever reason lately!?  I feel like it's a fun challenge :)
I HAD to ask Mama Pea how she came up with this crazy combination!  She told me that she has seen lime + coconut cookie before…I definitely have too!  But her little rascals don't like coconut so she was going to use white choco chips but didn't have any.  So, dark choco + lime it was! 
Chris ate 2 of the cookies and said "I would eat another one. I thought they were good." :)  So there you go people….Lime + Chocolate , WHO KNEW!?  Thanks Mama!
What I changed with her recipe:
1/3c sugar –> 1/4c sucanat
1/3c maple syrup –> 1/3c brown rice syrup
1/4c non dairy milk –> I used vanilla unsweetened almond [maybe another type would have been better?]
1/4c almond butter –> 2T almond butter 2T cashew butter
plus a few altitude changes
We had an Asian inspired dinner tonight so I thought I'd buy some new greens.  I wanted to buy Bok Choy but it didn't look so hot.  I grabbed this "Gai Choy" and steamed it for a few minutes.  We topped it with a few splashes of organic soy sauce.  Has anyone tried this before?  They had a a mild floral flavor that I was not a fan of.  I won't be buying it again…there aren't many greens I don't like!
Used my zester twice today.  LOVE my zester.  Pretty in orange! Ohhhhhhhhhh I just got an IDEA!!!  hahaha sorry! Okay, have you ever had dark chocolate covered orange??? Or orange infused chocolate!?  Hellllllooooooo cookie idea! weeee [contain your.self.ashley.]
Ohhhhkay.  So what am I doing with dinner + an orange?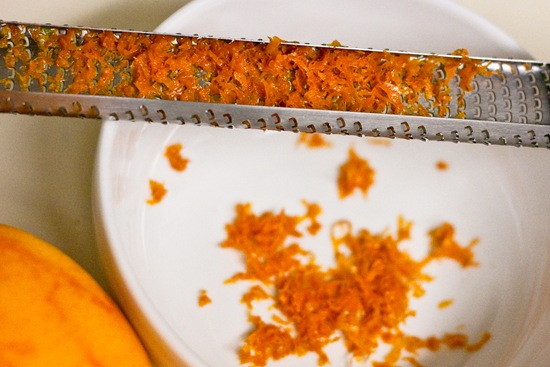 I made a fantastic tempeh dish tonight from the Clean Food cookbook, of course!  It was spicy cashew tempeh and BOY was it delicious.  Very easy to make as an added bonus.  Tempeh takes on Asian flavors SO well.  Chris loved it too.  Blegh to the greens, but I choked them down. 
Ahhhhh basmati rice you are so delicious!  I don't think I've ever made it before?? Gasp!  I topped it with a little recipe inspiration from Clean Food.  My altered version went like this:
cook basmati rice as directed
in a small bowl combine 1/2t cinnamon, 1/2t cumin, 1/4t salt, + zest from 1 orange
top on your RICE
The flavors paired perfectly with the tempeh cashew stir fry.  FLAVOR HEAVEN!!!!
Food excites me.  I just can't help it.
I took an "off" day because of my crazy soreness from flying around the mountain yesterday.  However, I did do a 20 minute yoga download for runners and then I whittled my middle. It was my first time doing the yoga for runners and I loved it.  [details here!]
If you didn't see the tweets about my article today, then check it out here!!  It was a hard topic to keep concise :)  Don't forget to follow them on twitter and/or facebook to get some awesome organic food coupons!
ONE more thing. I have mentioned the ingredient Kombu a few times and added it on my ingredient page.  I know some of you are like "okaaaay crazy lady playing with sea vegetables…." however, guess what showed up in the Whole Foods coupon booklet this past month. 
Tips + Tricks for beans:  "For increased digestibility [ahem] cook beans with 6 fresh leaves [or 2tsp dried] epazote herb or a piece or two of kombu seaweed [remove before serving]. 
How long have you been taking food photos for?  Did you start when you started the blog?  I started before the blog..it was about 3 years ago when I started taking a lot of food photos, but I didn't start using the digi SLR camera until this past September. 
Byeeeeeeeeeeee
Ashley
We ended our night with this.  Guilty pleasure.  Jack is back people!