Mmmmm pumpkin….mmmmm oats…mmmm i make noises when i eat
Pumpkin Egg White Oats:
1/3c oats
1/3c vanilla almond milk
2/3c water
1/2t cinnamon
vanilla splash
1/3c pumpkin – stirred in 1/2 way thru
2 egg whites – whisked in at end
nutmeg + ginger shakes
topped with: 1T granola, few walnuts, ~2t pnut butter, ~2t coconut butter
deericious :)
I had a completely random lunch spread throughout the whole day.  Part 1, was ~3/4c Oikos plain + 1 apple + cinnamon – For some reason I didn't like this combo.  To me, the apple and yogurt did not go well together.  I would have preferred a pretty pear!  I had a handful of almonds before running to the gym and when I got back about 1/3 of a leftover Amazing Grass bar that was in the cupboard.  I also had a graham cracker, chocolate + lime cookie, and one other delicious concoction.  Sometimes I just don't feel like eating lunch all at once :)
Off to the gym to hop on the bike.  Rest day from running.  My training page has been updated!  I also did yoga for runners and whittle my middle today.  It's amazing what 20min of yoga will do for your body!! Love it!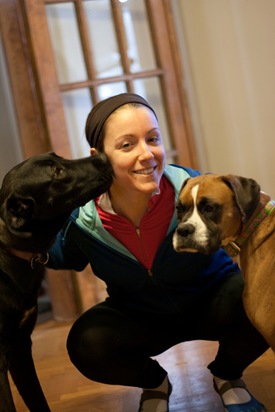 The end of my lunch!  I had this when I got home and it hit.the.spot.
Purple Bubble Smoothie:
1 orange
1/2c blueberries
1/2c oikos plain
1/2 serving mixed berry rice protein powder
This was SO refreshing.  Lately I have been kind of stuck on making green monsters and not adding much fruit, except for bananas.  I haven't been buying fresh fruit because it is so out of season and not worth the price because I know I'll be unhappy with the taste.  However, oranges are good right now and WF had an awesome deal on frozen organic blueberries.  These will definitely be happening more often!
Introducing my dinner soup FAILS.
Fail ONE – Amy's Vegetable Barley – No words can describe how terrible this soup was.  I actually have yet to be impressed with Amy's soups.  The soups were on sale so I picked up a few.  It smelled like strong onions [sorry Kath haha] when I poured it from the can.  I like onions but this smelled really strong.  I heated it up thinking it would then be better. Wrong…it honestly tasted like metal fish with a side of onions.  Lovely, no?  I dumped it…and I am not one to waste food.
Dinner success!!! Homemade Quinoa Cornbread!!! Obviously I should stick to doing things myself and not rely on cans to do them for me!! I was out later than I thought grocery shopping and then when I got ready to make the planned black bean chili, I realized we didn't have the beer it called for.  It was already 7:45, and I didn't want to go out again.  I am at least glad I made the cornbread!!  Really simple but a tad time consuming because you do have to pre-cook quinoa and add it into the mixture.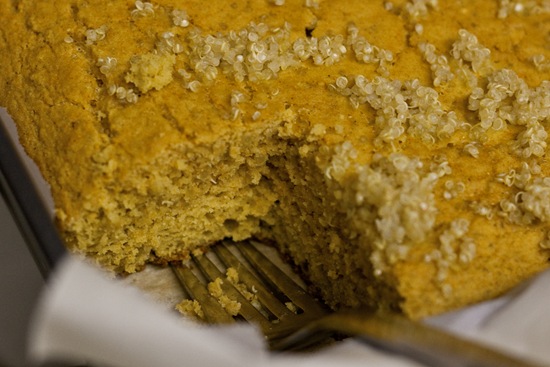 Corny Quinoa Bread
3c corn flour [BRM makes this and it was only $1.99!!!]
1 1/4c cooked quinoa
2t baking soda
1t salt
2c low fat buttermilk oat milk + 2T lemon juice
2 eggs
Oven @ 350* – Line a 9x9 pan with parchment paper or butter + flour so it doesn't stick.
I combined oat milk + 2T lemon juice to mimic buttermilk.  I used oat milk because it is thicker than rice + almond.  You can also do this with cow's milk to make your own buttermilk.  I just didn't feel like buying it!
Combine flour, 1c cooked quinoa, soda, + salt.  Mixing well to break up any lumps.
Whisk eggs + buttermilk together.
Combine dry into wet and stir until just combined.
Pour into the pan and top with 1/4c cooked quinoa. 
Bake for ~30min.  It should be fluffy and golden brown…toothpick test it!
Make your own buttermilk:  cow milk – vegan version
So yes, this was on the bland side, but for some reason I LOVED it.  It had a nice corn flavor and I liked the flavor the oat milk gave it as well.  The texture was awesome.  Fluffy but dense and nice and moist.  I could have eaten a lot more than I did!!  I might have to incorporate this into breakfast.  I like that sugar was not called for in this recipe, but in the morning I could see drizzling a little maple syrup on top and warming it.  Was my family the only one that would make cornbread and top it with maple syrup?  It's sooooo good that everyone should know about it!
Soup FAIL TWO!!!  I've had this for awhile and really like other soups from Pacific…like their tomato and butternut squash.  This however was also TERRible.  The flavors did not mesh well at all.  It also got dumped.  By this time I was getting really MAD. grrrrrrrrrrrrr 
Now what?  Egg samich time!!!
Crack + Pour
Poke + Spread [Kelsey discovered this secret method that our FAVorite bakery in Charlotte used…it's perfection :)]
Cook.
THE best way to cook eggs.  A little like scrambled, a little like sunny side up, A LOT GOOD!!! If I know one thing it is that I LOVE EGGS.  Who's with me on this?  Whole Foods orgn. whole wheat bread and a little fresh grated swiss.  This seriously hit the spot…I could have eaten another, hehe.  Maybe THIS will be breakfast? Ahhh too many options!
Guess what's updated besides my boring training page? RECIPES!! Now I just wish I could have ONLY the recipe showing…sorry you have to scroll through the post.  It seems like it would take FORever to create new posts for every recipe just to have that on the page…someone tell me if there is an easier way, haha. I'm also in the process of posting photos in the "DIG.IT –> FOOD I DIG" category. 
On another note…I had an awesome night of grocery shopping, no joke!  I found some awesome deals at Natural Grocers and Whole Foods.  Plus I think I saved about $10 with WF coupons.  Rock on!  The best deal was that WF had the 16oz Oikos on sale for $3.99 and I had THREE $1 off coupons.  $2.99 for three tubs..heck yes!
I think I need more cornbread.   Niiiiiiiiiight!
~Ashley