Why I love peanut butter more than any other nut butter:  The melt factor.  I have yet to meet another nut-butter that melts with such ease + creamy deliciousness.  To the right we have a little Artisana cacao bliss and to the left you're find some of my homemade gluten free quinoa crunchy crunch cereal. 
Faaaaantastic.  I made a bowl of rolled oats with chia, cinnamon, vanilla and about 1/4c applesauce.  I made the huz a green monster [he loves them] before work and I guzzled down a bit of it myself, so I made a tad smaller bowl of oats than the usual.  I probably had 6oz of the GM and could not even finish this bowl!  I was stuffed…and then of course, hungry 2hrs later.
Lunch time:  Quinoa CRunch + real deal whole milk  - I don't buy cow's milk anymore unless it's for a recipe.  No reason really..I've just been exploring all of the nut/seed based milks.  I know a lot of people can't tolerate dairy well, but I don't think I've ever had a problem.  I say I don't think because who really knows what's going on inside??  The milk is from a local farm and is sold at Whole Foods.  Rich, flavorful, delicious.
The quinoa cereal is interesting.  Many might find the recipe somewhat bland, because I kept as much sugar out of it as possible.  I wanted to flavor it with the coconut milk + cinnamon.  It has a very unique crunchy texture that is really growing on me. 
The rest of lunch: 
three farm fresh eggs – pour, poke, spread method - SO gooood
1/2 hemp bagel – topped with ~1T pnut butter + Heather's jam
It was my first time trying these bagels that I bought a week or so ago and told you guys about.  I needed some serious fuel before hitting the pool.  All together this lunch was pretty calorie/protein/fiber dense and boy was it delicious. 
1 bagel = 280cals – 8g fat – 19g protein – 13g fiber – 3g sugar [pretty crazy, no?]  They have an awesome ingredient list as well.  All REAL food!  So last I told you I made Chris try them out first, hehehe.  I toasted it and slathered it with pnut butter for him.  When I asked him how it was he said "it was okay…sort of dry"  Well almost any bagel with just pnut butter would probably be a little on the dry side. 
Before I get into what I thought, does anyone think it's weird to put pnut butter on a bagel?  I have met MANY people that think it is the strangest thing ever, yet putting pnut butter on bread doesn't phase them.  It makes no sense to me because a bagel is bread, right?  Bread or a bagel toasted with pnut butter is probably one of my favorite things ever.  That whole melt thing..mmmm So….am I missing something?  I've always eaten PB on bagels!! 
I stuck the half in the micro for 20sec [because it was frozen] and then toasted it.  I didn't think it was noticeably dry.  I liked the outer crust with all of the seeds and the inside was moist enough for my liking.  I liked the texture but the flavor took me a few bites to figure out what was going on.  It was just not your typical white/wheat bagel flavor.  It had a stronger flavor that was kind of nutty.  It grew on me more and more with each bite.  All things considered, I give this product an 8.5/10.  It's not your typical bagel, but it was really tasty.  It also really kept me full!  I will be buying these again.
I swam for a solid 45min today.  Wow was that intense.  My arms/shoulders/back were pretty sore from bouldering on Sunday but it felt good to stretch everything out in the pool.  Swim workouts go so fast for some reason??  The rec center I normally go to, right at Wash Park, is closed this week for maintenance.  Luckily, when you belong to the Denver Rec Centers you can go to ANY of them which is fabulous.  I tried out a new rec center today that I fell in love with.  The pool area is so much nicer + cleaner and the workout area had a LOT more weight + cardio machines.  Wash Park is nice because I can walk there but this facility is just definitely more to my liking.  It's about a 4m drive..not too bad but walking to the gym is more fun.  I'll probably switch back + forth now.
Ooooh…I'm chatty today..;)
I was SO excited to try this new product.  I bought it at Natural Grocers but haven't found them anywhere else.  I knew I would be famished when I got out of the pool.  I ripppped it open as soon as I got into the car.  I am ALL about the hemp products later.  I want to do a post more in depth about hemp + protein in the near future…
In the short:  This bar had great nutrition info and only about 5-6 ingredients, and soy FREE, weeeeeeee :)  I loved the CRUNCH of this.  All of the seeds made me have to chew a lot more, which made me eat slower, which is always a good thing.  It was the perfect sweetness.  The chocolate flavor was there, but not too intense.  Loved it 9/10.  I need to find these babies online!
On to dinner.  It came straight from this website that Lauren passed along to me after the blogger meet up in February.  I haven't explored the site more but Lauren said they have a slew of awesome recipes.
New York Times – Recipes for Health [anyone check this out ever??]
Dinner Recipe – Eggplant, Tomato, + Chickpea Casserole [this is SO weird…the link isn't working for me now..it's making me log in but earlier it didn't do that..hmmm]
Onions – They ended up having such a nice mellow flavor in the casserole.  Loved them…not overwhelming in any way.
Eggplant – I am not a fan.  However, I have discovered that ROASTED eggplant is delicious.  It gets rid of that nasty rubber texture I don't like.  mmmm I ate a few of these after they came out of the oven :)
Layered up before baking in the oven.  I can't express how delicious this meal was.  The flavors are perfection and it's such a simple dish.  My tummy was thankful that I soaked the chickpeas + boiled it with Kombu.  No bloat action ;)
I ate this with whole wheat Naan that I picked up at WF.  I completely forgot to buy greens [insane!] but a salad would have been a nice compliment.  I'm not sure how many it serves but I ate about 1/3 of it :)  The whole recipe only uses 1 eggplant and ~1.75c of garbanzo beans.  No canned beans here!
While I was making dinner, I was also making THIS gluten free snack mix per Darryn's request!  Oh man did it turn out delicious!!  Recipe for that tomorrow :)
A reader asked if I could explain my method for cooking the raw chickpeas.
How To Cook Raw Garbanzo beans:
Rinse beans + check for debri.
In a medium/large pot cover desired amount of chickpeas with water. 
Cover + bring to a boil for 3min. 
Turn heat off and keep covered fro 2-4hrs.
Drain + rinse. 
Add 3c of water for every 1c of dried beans.
Place a [washed] 4" strip of Kombu into the pot as well.
Bring to a boil [covered] and then simmer for 3hrs.
Take off heat, discard kombu and rise well with cold water.
Store in the fridge.
I have read that you can also soak them fro 8hrs and then boil them, as specified in 7-10 above.  The directions I used were printed on the bag of them I bought at Natural Grocers.  Here is a link that will give you a TON of info on garbanzo beans and will inform you of a similar cooking method.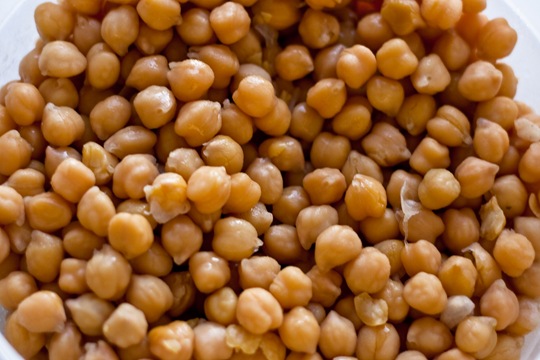 Also while dinner was cooking, I made a delicious + simple hummus that another reader challenged me to make starting with raw garbanzos.  I used the recipe on pg. 40 of the Clean Food cookbook.
It was creamy and delicious with a slight hint of lemon, garlic and pepper.  I loved the texture compared to store bought.  It was fluffier and not quite as thick.  I feel like most store bought hummus is always kind of pasty tasting.  Honestly this was probably the best "original" flavor hummus I have had.  Really tasty with the crackers I made yesterday too!
Will you kill me if I don't give you the recipes for the crackers + snack mix + quinoa cereal right now??  I'm just going to have to take that risk because 1] I am EXhausted 2] This post is LONG enough already, don't ya think?  I'll do an afternoon post with just the recipes..how bout that ;)  I had a ton going on today..up at 7:15am and it is now 1:20am.  Totally non-stop all day long! 
sleepy eyes + muscles ashley is going to bed…niiiight <3