I have a nasty head cold/sore throat thing going on, that I'm sure you'd love to hear the details on.  Instead, I'll just give you some photos…of food, not me + my head cold.
Rewind:  Tuesday AM
Watch out for the pnut butter + cacao bliss waterfall…it's dangerous.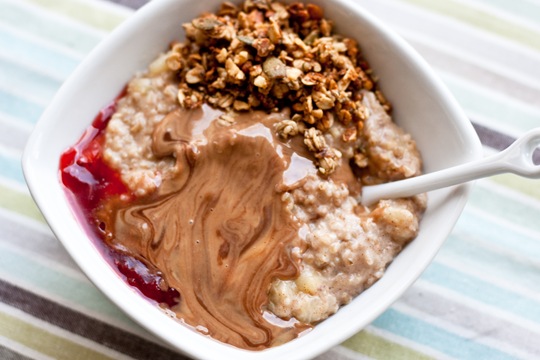 Banana Coconut granola.
I made the Irish steel cut oats, which I am addicted to.  This might become my staple for oats!!  A reader recently brought up cooking time with steel cut oats.  He was confused because people [myself included] said that these steel cut oats take 30min of cook time.  He said his take only 15min before they're done.  He also said that he uses a little less liquid, because he likes them crunchy, so this might shave off a few minutes. 
My response:  The Irish steel cut oats can says to cook for 30min.  I also repeated that it took me 30min but it really didn't.  The reason I didn't say that was because I thought maybe it was due to my pans + gas stove.  My regular oats cook much quicker in stainless pans on a gas stove then in non-stick pans on an electric stove.  So, I figured it was just the combo of my pans + gas stove that led to the quicker cook time.  I would say they take about 20min to get to the consistency I like.  For a 1/4c serving I actually use more liquid than they call for.  It calls for 1c of water but I use 1 1/4c because I like creamier oats.  What is your experience with cook time for steel cut oats??
With steel cut I also don't add the thin sliced banana, vanilla, or cinnamon in until about the last 5min.  YUM.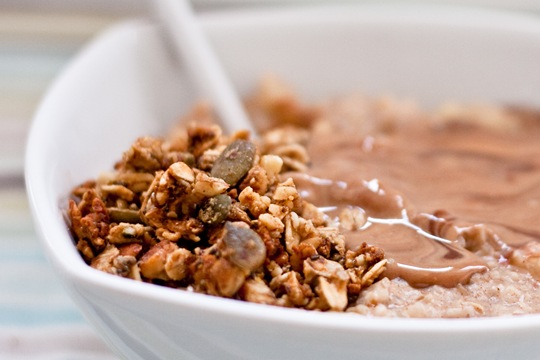 Has anyone tried this brand of Kombucha?  So far it seems that they only make 3 different flavors.  I have tried them all now and this one "berry hibiscus" is THEE worst.  It was sour tasting to me and too flowery.  Yak!  I LOVED the honey ginger + mango though.  I made a realization the other day that is helping me justify the cost of these Kombucha drinks. 
I don't drink much alcohol anymore, especially out at the bar.  I used to have 1-3 drinks at the bar once a week, sometimes twice a week.  Now, maybe I have one drink out a week?  A beer at the bar will cost you at least $3 if it is remotely respectable and if you catch a good happy hour.  So I have been saving us money!  I could continue to save us money or I could divert some of that saved bar money to Kombucha $$.  I choose option TWO. Around here Kombucha drinks cost between $2.50-$3.  If I drink 2-3 a week, I think that is fair.  Don't you? hehehe  What do you think Chris? ;)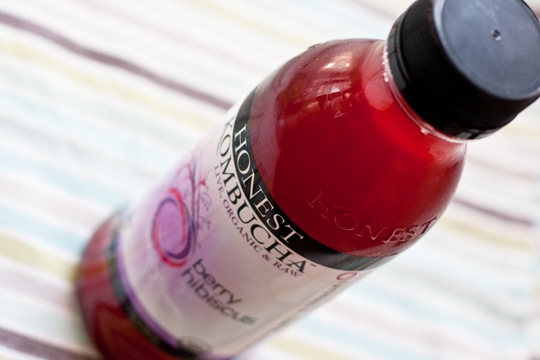 Rarity:  Fruit snacks
Reasoning:
They were on sale!
I just found out Annie's has ZERO connection with Monsanto, thanks to this post on the blog A Month Without Monsanto!! [again if you don't know what Monsanto is…please check out that blog]
Chris doesn't really like sweets but he loves fruit snacks.
It was the first time I've gotten this brand of fruit snack before.  I don't know when the last time I've purchased fruit snacks!  Wow, were they good!  They were super soft and didn't get completely stuck in your teeth or hurt your mouth to chew!  The little 70cal pack was perfect.  Any more in the bag and the sweetness would get to me.  The sugar count was 10g and the ingredient list was acceptable.
Whole Foods also has an unbelievable sale on Amazing Grass SuperFood until March 30th.  Check your local store..not sure how their sales work.
Normal price:  $26.99
WF Sale price: $17.99
Chris has been using a scoop of the Chocolate SuperFood in a Green Monster every morning since he started working.  He really likes drinking breakfast because he can take it in the car and not make a mess.  He also isn't usually too hungry in the morning so it's easier to guzzle down liquid than a huge bowl of oats or bagel or something. 
His usual mix:
Pnut Butter Chocolate Green Monster
handful ice
~1/2c almond or hemp milk
1 scoop Amazing Grass Chocolate SuperFood
1-2T pnut butter
handful [~1/4c] almonds
~1/3c rolled oats
It tastes like a pnut butter milkshake.  SO SO good.  I suggest this mix if you are a newbie to Green Monsters.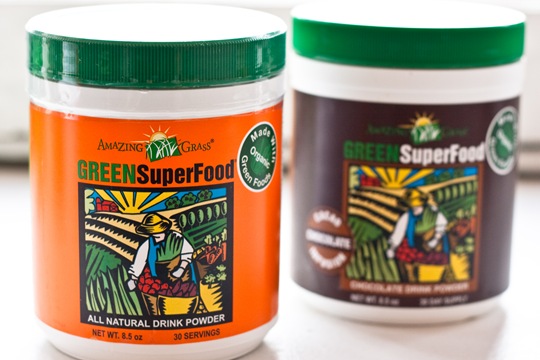 My first time buying Hemp Protein.  I'm really excited about it and will let you know what I think!  The flavor should be good with any combo really. 
Normal Price: $19.99
WF Sale Price:  $13.67
Sore throat aids:
Cough Drops:  edible…not too terrible, not my favorite…a bit sweet but definitely soothing
Tea:  completely DISgusting – I would rather be gagged with a spoon than drink this…the flavor was OVERpowering and it was OVERly sweet.  SICK.
I will stick to my Japanese Green Sencha thank you very much!
Lunch: Rabbit food topped with homemade hummus + crackers [so delish!!!]  The crackers were the perfect crunch for the salad.  The greens were accompanied by naan + leftover eggplant casserole [insanely delicious] baked in the oven and topped with cheddar goat cheese from the farmer's market.
Ma' girls.
doggie paw
Wednesday:  Feeling much ickier today…blegh!  You know I'm sick when I'm not eating every 2hrs.  I think my time between breakfast and lunch today was FIVE hours with only a tiny bite of a snack in between.  Completely abnormal.
Good thing I keep empty jars of pnut butter around for emergencies.  THE best pnut butter!!  This has NO oily mess :)
Irish steel cut oats with bananer/vanilla/cinnamon…topped with: Make You Go Crunch Granola + Cacao Bliss + Heather's jam
I don't leave much in my jars.  I would say this had 1T total. 
<3 <3 <3 steel cut oats
This was the best I could do.  Too bad I can't get my tongue in there too far.
So I passed it off to someone who can. 
Can you see it sparkling??  She completely wiped it out clean.  Kenna missed out..she was upstairs snoozin'
Lunch:  Salad!  I figure I should try to eat healthy while sick…however I had two bites of this salad and had to put it in the fridge.  Was NOT feelin it at all.
However the eggplant casserole tasted DEEvine. I baked it atop seedy spelt bread from the WF bakery that was on sale for $1.99!!  The bread is dense, with a good crust, and really tasty.
I broke into some BOXED Annie's mac n' cheese for dinner…yikes!  Sometimes when you're sick you just need some comfort.  Not sure when the last time I've had mac n' cheese and it was very "meh."  I also consumed about 1/2 sleeve of whole food's brand saltine crackers…mmmm Those tasted Eggcellent! ;)                   
Before my head detaches from my shoulders [because it feels so heavy] I am going to say goodnight!
~Ashley