I tried something really different for breakfast.  Well, it was still creamy +  smooth like my oats, but they weren't oats at all.  Have you ever seen Quinoa Flakes in the store?  They are a bit pricey but I've really been wanting to try them out.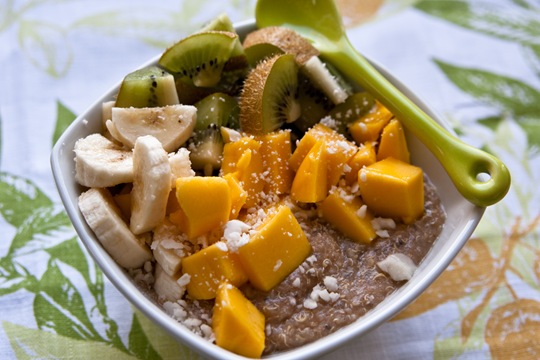 It was literally flaked quinoa.  Nothing more.  If you look closely [and if you have cooked quinoa before] you can tell that it is quinoa and not oats or oat bran.  They cook on the stovetop in about 2min!
Tropical Quinoa Flakes
1/3c quinoa flakes [~130 cals, 2.5g fiber, 23g carbs, 4g protein]
water + coconut milk
1/2t cinnamon
splash of vanilla
Topped with:
Artisana coconut butter
kiwi [with the skin, so yummy!]
1/2 banana
Thoughts?  It definitely tasted just like quinoa but creamy like oat bran.  The toppings were really fun and definitely a change of pace.  However, this bowl only kept me full for 1.5hrs!!! Eeek.  Next time I would cook more and I think that glob of pnut butter really helps things stick in my stomach!  Also, I think the quinoa flakes would be much better as a savory bowl.  I definitely could have imagined a sunny side up egg on top or even black beans + salsa.  I see a savory lunch bowl with quinoa flakes in my near future.
Sunbathing.
Sniffing the air.
Lunch was killer. 
Start with:
1 Ezekiel sprouted grain wrap [LOVE these…chewy + delish]
~1-2T tomato paste [new fav. topping]
mixed greens
Sauté with olive oil:
5 baby bellas
~1/2c chickpeas
1 artichoke, chopped
Top with:
2 farm fresh eggs [pour, poke, spread method]
sun dried tomato, chopped
Way too delicious. 
And extremely challenging to eat….but so worth it.
Feelin' the fruit today apparently!  I chowed on another kiwi with what was left of my Oikos Plain Greek yogurt.
Before lunch I walked to the gym and rode on the bike, while reading Born To Run.  I am in the last few chapters which kept me on the bike for 61min38sec.  I could NOT put this book down!  I usually do not stay on stationary gym equipment for more than 45-50min max.  1 chapter to go!  For more of my daily workout details I got my April page up and running.
Later in the day, Chris and I headed to the park.  It was a gorgeous day outside so we wanted to take advantage…and we just got a new frisbee and wanted to try it out ;)
I wore my Vibram 5 Fingers!! I'm easing myself back into these, for walking, whenever I can.  My feet are feeling pretty good, but I'm still sticking to my running hiatus for now.
Action shots!
ready.
set.
go.
Always fun to get outside and do something active other than running/walking.  Yay for the park being so close to us!  Do you see the HUGE Great Dane in the background??  I'm glad Kenna [great dane/lab mix] did not get that big!  
I'm hoping to go for a swim tomorrow and get some things done around the house…but tomorrow + Sunday I'll also be working 8hr shifts!                
I wanted to say hi to my new readers!!  I have been getting quite a few new commenters, so I just wanted to say helllooooo, and thanks for stopping by :)  Hiii to my old readers as well!  You guys rock.
Night all – xo
Ashley
Edibple Perspective Facebook fan page!