Whoa.  Completely exhausted.  I am not used to 8hrs of being on my feet running around non-stop.  I probably didn't need that work out this morning!!  I need to get to bed because I'm back at work again tomorrow at 10 and again on Monday.
These soup crocks hold my oats perfectly :)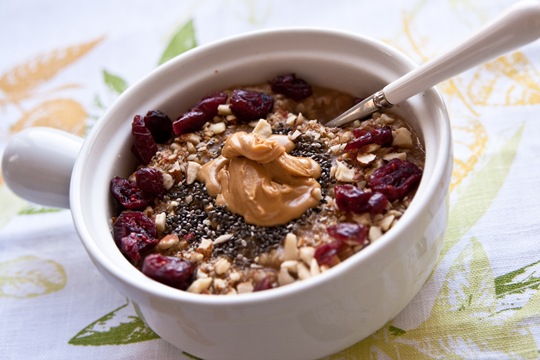 Nutty Cran Oats:
1/4c steel cut oats
1c water + 1/3c vanilla almond milk
1/2 banana
vanilla
1/2t cinnamon
Toppings:
~1T pnut butter
sprinkling of chopped almonds
1-2T cranberries
1t chia seeds
FANtastic!  With a side of coffee :)  After breakfast I headed to the farmer's market with Ann.  There was SO much more there this week and I actually spotted some GREEN produce.  Lettuce is starting to come in..yippee!  I bought a dozen eggs [per usual], a jar of pickled peppers, and LOCAL wheatberries!!  I was excited about the wheatberries being local, hehe.
I went to the gym for a cardio workout.  I wanted to swim today but the 2 pool's I checked didn't have Adult Lap swim today, boo!  So I settled for elliptical [with arms] for 30min and bike for 10min.  Aaaand, very exciting, I finally finished Born To Run.  Holy smokes…amazing amazing book.
Lunch.
Ezekiel tortilla
~1T tomato paste
mixed greens
2 eggs [pour, poke, spread method]
1-2T sunflower seeds [for CRUnch!]
Plain Stonyfield yogurt with a kiwi..mmmm Lunch was fabulous.  I loved the sunflower crunch in the wrap!
I took this with me to work, in case I was in need of a snack before or after dinner.  This was my first time having the Key Lime Pie LB.
We get 2, 15min breaks and 1, 30min break.  During my 30min I tore into this plate of deliciousness.
Israeli couscous with squash + asparagus – Loved the texture of this couscous!! 
Salad – romaine + kale + tamari roasted pepitas + egg + chickpeas + tofu
Super yummy dinner :) I made up a dressing that was DElicious!!! It incldued:  balsamic vinegar, lemon juice, apple cider vinegar, and olive oil
Snacked on half of this for dessert and the other half during my last 15min break.  I was on the go-go-go the entire shift and totally starving again at the end of the night.  This Lime LB was reallllllllly awesome.  I LOVED it.  I stayed away from the lemon + key lime LB's for so long because they just sounded gross mixed with dates.  However, they are both my favorites!  I still also like the pg+j, pecan pie, and maybe 1 or 2 others.  I tried the tropical bar recently and HATED it.  Way to strong tasting for me and it was dry for some reason.
Anywho…lemon + key lime Larabars = YUM
I'm icing my foot now because it actually started acting up on me during my shift :( Laaame!!  I'm off to LITerally CRASH into bed!
Congrats to Kath + Emily on their SUPER amazing 1/2 marathon times and stories.  I love reading race recaps!!  Wish I could have been running that race again this year!
~Ashley