Woke up to 4 INCHES of snow this AM.  YEs..for serious!  Eeeeek.  It stopped snowing by the time I was up, around 8, and all of the snow was melted by about 2pm.  INsane weather.  Tomorrow is going to be in the 60's which will be so nice. 
And now to my bland bowl of oats.  Almond butter is just so much more bland to me, especially topped on oats.  This bowl was not my best.
Unsweetened coconut is good, but not full of flavor.  It couldn't save this bowl.  I bought Bionature Peach Fruit Spread recently, and it's just not all that peachy.  I wish the flavor was stronger.  All in all, this led to a bland-ish bowl.
2 things that I wanted to make for my mom…
What do you get when you combine kale….
…with vegan "cheesy" sauce??? [recipe from Love Veggies and Yoga]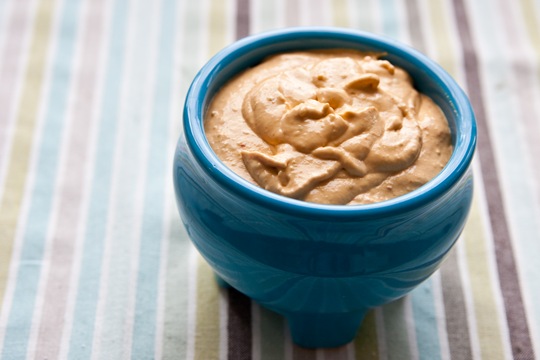 Amazing cheesy kale chips.  So cheesy, minus the cheese.  Whoa whoa whoa…2nd time making these and just as impressed.  The vegan cheese sauce is UNbelievable.  It tastes just like a nacho cheese dip.  My mom was like "you made this with CASHEWS???"  Yes, mom.  She was asking me where to buy nutritional yeast so she can make this at home. 
This sauce would be amazing on anything from pasta noodles, burritos, nachos, stuffed peppers, or even on a veggie samich.  So many possibilities! 
Now…nutritional yeast.  I despise that name.  Seriously.  Along with Teri, I also despise the nickname for nutritional yeast…Nooch.  I do not want to eat anything called Nooch, thank you very much.  Can we please come up with a new name for this ingredient?  I have heard "yeshi" which is a tad better but anyone have another idea???  Am I crazy or do other people hate what this is called as well? ;)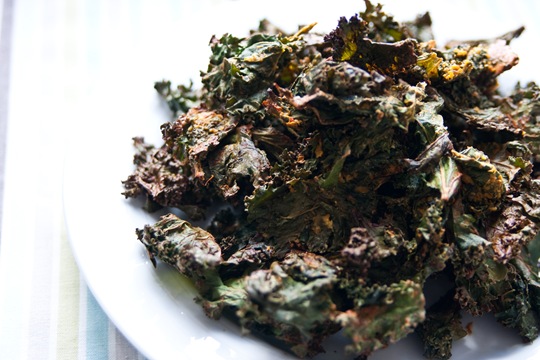 Item #2 I wanted to make.  Low + Slow sweet taters.  Hellllooo creamy deliciousness.
I made them 2 ways:
olive oil + salt
coconut oil + cinnamon + salt
Roast away. 350* for about 20min – flip once – 400* for another 20min – flip once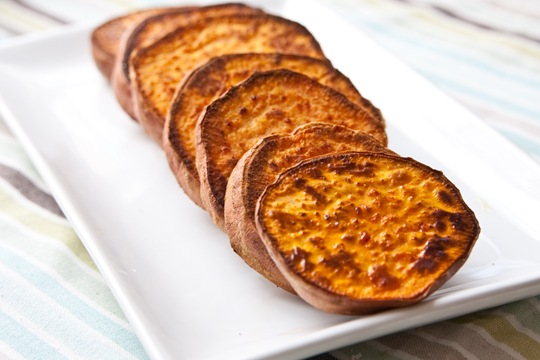 My mom didn't think she was a big sweet potato fan but she really liked this cooking method.  Ohhh yah.
Baby cake time.  Vanilla On Vanilla + Black and White
The vanilla is by far my favorite and not just because I LOVE vanilla.  I thought the vanilla flavor in the frosting was perfect and it had the best cake out of all the ones I tasted.  The Black and White was perfectly marbled cake but didn't seem as moist as the plain Vanilla.  The chocolate dollop on top was very fudge-like and yummy. 
VOV you won me over.
New hat #1 – You can't see it in the photo but there is a silver thread running through that has a little sparkle :)  Fun + summery.
New hat #2.  It wasn't down all the way on my head!  My mom picked this one out. 
My mom + I headed to Ft. Collins to meet up with our family for dinner.  My dad's brother lives there with his wife and daughter, Elizabeth.
We ate at a delicious Mexican restaurant.  I had the best veggie fajitas!!  They were super fresh and very filling.  My aunt had a little mishap…when she pulled a piece of a plastic bag out of her burrito…yeah…pretty gross. 
Ooooh I keep forgetting!  Teri has an awesome giveaway going on this week.  You can get 1 entry everyday…sorry for not letting you know sooner!  It goes on til Friday night, so you can still get 2 entries in.  She's giving away 5 sets of things to giveaway.  It includes 4 different sample packs of Bob's Red Mill cereals and 1 bowl scraper.  I totally want to win this!!! You can submit 1 entry per day on this post! 
I'm doing some photography tomorrow for a local company, which I hopefully can fill you in on soon!  I'm really excited :)  My mom + I [and maybe Chris] will be in Boulder most of the day.  Maybe I'll spot Heather or Laura at some point while we're there!
Oh yeah, my mom + I hit the gym today too!  I did a high intensity interval bike workout for 40min while my mom walked on the treadmill.  I'm getting close to finishing Born To Run.  It is getting better page by page…looooooove it!!!
G'niiiiiight!
Ashley