I pummeled through most of my to-do list today.  THANK YOU Kath for tweeting about this awesome TeuxDeux list making website.  For some reason, it really helped me tackle most of what I needed to do.  Sometimes I write things down on a piece of paper, but misplace it, or don't really check things off of it.  Having this on the computer was so much more helpful.  It was starring me down all day.  I couldn't avoid it, so I just tried to plow through it!
I got up at 7am today.  Blegh!  I'm trying hard to get on this early schedule.  I waited until I was hungry to eat though, so I don't throw off my schedule too much.  I don't want to start eating dinner at 5pm :)
I made Scottish Oats with NO nut butter today!!
Blueberry Walnut Scottish Oats
1/4c Scottish oats
1 1/4c water
1/2c coconut milk
1/2 banana
1t vanilla
1 egg white
1/2T chia seeds
1t cinnamon
1/2c blueberries
1/4c walnuts
~1/2T honey
Boil water, whisk in oats, and turn heat down to a simmer.
Cook 5-8min until thickened.
Add in milk, vanilla, banana, chia seeds, cinnamon and stir to combine.
Cook another ~5min, whisk in egg white and let sit for ~2min.
Turn off heat + stir in blueberries.
I didn't miss the nut butter at all!!  I love the softer texture of walnuts and the flavor was awesome.  The honey, is a super flavorful local honey, I bought when we lived in Charlotte.  I don't think honey really goes bad….??  It tasted perfect!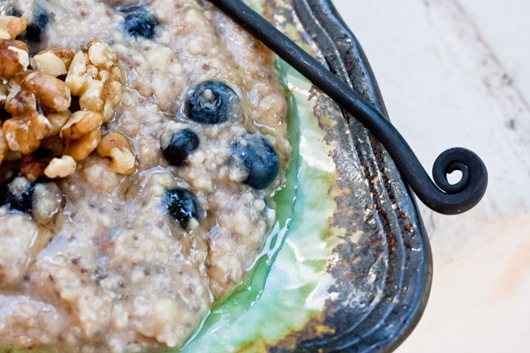 Fish Time
3/4 mile walk to the gym
100m warm up
1600m freestyle - [64 lengths] 42min
50m cool down
3/4 mile walk home
I was in the zone today!! It's been a while since I could get in a good swimming groove.  Felt great! 
I've been meaning to make hemp milk, since Gena posted about it recently.  I got all the ingredients a few weeks ago and finally decided to give it a go.
1c of organic hemp seeds
i.love.hemp.
Did you miss my post about hemp protein??  Check it out to find a LOT of info on why this little seed is SO healthy and easy on the environment.  I reaLLy need to get to writing the other protein posts.  Ooops!  One day…
1T sunflower lecithin – This is much less processed than soy lecithin and it's non-gmo.  Almost all soy lecition is GMO unless otherwise specified.  There are no harsh chemicals used in the extraction process, unlike with soy lecithin.  It's used as an emulsifier to bind ingredients together.  In this milk recipe, it's used to bind together the seeds + water, so they don't separate as much after blending together.
The only sunflower lecithin I could find was in capsule form.  It was NOT fun cutting open about 20 capsules and squeezing out sticky goo for 1T.  This stuff was hard to wash off of your hands too!  I'll definitely have to look for it in paste form!  Gena used agave nectar to sweeten the milk, but I prefer brown rice syrup.
I also used vanilla bean paste, instead of vanilla bean extract but either work.
Hemp Milk [slightly adapted from Gena's Hemp Milk] yields ~4c
1c shelled hemp seeds
3c water
1.5t vanilla bean paste or extract
3-4T brown rice syrup
1T sunflower lecithin
Start by blending on low and work up to high for about 30sec until well combine.
Pour into containers and refrigerate!
Check out Gena's post for the nutritional facts.  One 1/2c serving has a whopping 8.8g of protein!  This was the best hemp milk I've ever had.  Hemp milk is pretty pricey as well.  I haven't figured out if it's more or less expensive to make it at home.  However, one thing I do know is that it's much less processed and uses less ingredients to make at home!
Vanilla bean specs
I put it in 4 different jars.  So excited about this.  I need to make almond milk again too and oat milk, which I have never made.
Dinner was fresh, clean + delicious.
spinach
sautéed green beans, garlic, salt + olive oil
oven roasted golden beans, olive oil, s+p
goat cheese
dill
walnuts
olive oil + red win vinegar
I had a big pile of quinoa on the side too!
I like beats but I don't love them.  I like earthy flavors but they are a little overwhelming sometimes. 
Officially wasted.  Not drunk wasted.  EXhausted wasted.
Oh yah..the house we wanted to rent, is now up for sale instead and out of our price range.  Lame!
Bed.Now.
Ashley