Is everyone back at work today?  Chris has one more day off [today!] so we are currently snowboarding in the mountains.  We left Sunday evening and are staying at a friend's condo.  Sunday was a lazy day, which was so needed.  Well, lazy as in we didn't leave the house or workout.  However, I cleaned the kitchen, vacuumed the house + couch, and did a bunch of laundry.  So glad to have that done!
Breakfast was a bowl of the Bob's Red Mill high fiber cereal, that I picked up in the bulk bins the other day.  It's pretty good, but not my favorite.  It gets a little bit gelatinous from the ground flax.
Check out this awesome bowl my mom found for me!  It's actually supposed to be used to whisk eggs. 
It's actually quite large and the sides come up nice and high, to make whisking easier.  The little pour spout will work great, as well as the indentation on the other side, to comfortably hold the bowl while whisking.
I topped this bowl with a little almond butter, peanut butter, jelly + maple butter.  Lots of butter action + lots of deliciousness!
While catching up on my Google Reader today, Angela's recipe for an Clementine Creamsicle Smoothie caught my eye!  Orange creamsicle popsicles were always a childhood favorite of mine.  Her smoothie looked luscious + creamy, and luckily I had all the ingredients on hand.  Since I'm still having sinus/cold issues, I thought this would be a perfect vitamin boost!
The frozen goods : banana + clementines + avocado
I picked up this small box of creamed coconut a few months back.  This was my first time using it though.  This box was really cheap, coming in around $2.  Inside is a bag of solid coconut cream that you can use to make coconut milk at home.  I'm not sure how much you would use to equal a whole can, but it has 7 servings with 220 calories per serving.  So from that, I think you could compare it to canned coconut milk and estimate how much you would need.  All you do is mix this with water at 1 parts coconut cream : 2 parts hot water.
I made a few changes to the recipe, although I'm sure the original was delicious!  I absolutely loved this!!  It was so much creamier than a frozen fruit smoothie, thanks to the avocado.  If you have avocado on hand, always add 1/4 of it in your smoothie.  It gives them the best texture!
This was quite a large smoothie.  I got about 1.5 servings out of it.  Chris got the 1/2 serving. :)
The only change I would make next time, is to add about 1/4c of orange juice + 1/4c almond milk, instead of 1/2c almond milk.  The orange flavor from the clementines was really masked from the banana + avocado.  You can't taste the avocado, but I've noticed before that it mutes the overall flavor a bit.
Orange Banana Vanilla Smoothie serves 1 – 1.5 [adapted from Angela]
1 medium banana, very ripe
1/2 avocado
1T coconut cream + 1/4c water [or 1/4c full fat coconut milk or 1T coconut oil or butter + 1/4c water]
1/2c unsweetened almond milk [or 1/4c almond milk + 1/4c orange juice]
3 clementines [or 1 large orange]
1, 8oz container 2% vanilla yogurt [Greek or regular]
1t vanilla
Freeze the banana, avocado + peeled clementines.
Throw all ingredients into your blender and start at a medium speed.
Work it up to high and let it go until completely creamy + thick.
Top with shredded coconut!
*If you want to make this a heftier smoothie for breakfast, add in 1/4c uncooked rolled oats and/or 1 scoop vanilla protein powder and/or 1/4c cashews or almonds.
**Add 1T more almond milk, until desired thickness is met.
Creamy, refreshing, deliciousness.  Thanks for the idea, Ang!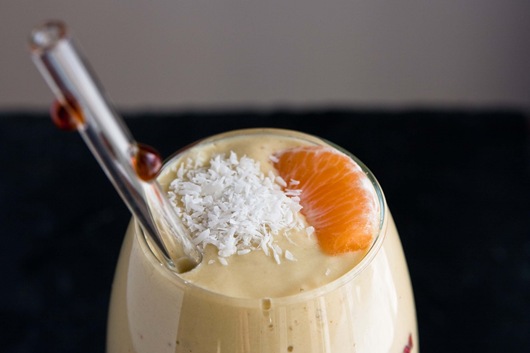 While slurping our smoothies, we played a round of Pandemic, because we are obsessed. 
Dakota hovered.
the.entire.time.
Catch you guys on Tuesday!!!
Ashley