Looks familiar, right?
Buckwheat bake?
Nope!  Many of you have asked if you can use different flours for the buckwheat bakes.  Oat flour definitely works!  I ground this fresh, in my blender, from steel cut oats.  To make oat flour, you have to grind the whole oat groat.  Steel cut oats are just oat groats cut in a few pieces, so that works too.  I'm not sure if grinding rolled oats would work.  It might absorb liquid differently, but would most likely be okay.
The bake was not as voluminous as the buckwheat bakes, but I loved the flavor!
Oats have a subtle sweetness to them, in comparison to heartier buckwheat.  The moisture level of this was perfect!  It was thick enough it could be cut, but definitely not too dry.  I always feel like buckwheat needs a bit of sweetness added, but oats do not.
Why would I cut it in half?  To make a samich of course!
This was 100% messy + 100% amazing.
Stuffed with bananas, jelly + peanut butter.  I ended up eating it with a fork! 
Oat Flour Bake [serves 1]
1/3c oat flour [ground from oat groats]
1T chia seeds
1t cinnamon
1.5t vanilla extract
1 large egg
1/4t baking powder
2T unsweetened almond milk
1/2 mashed banana
Preheat oven to 350*
Grease a small baking dish [4-5" diameter].
In a bowl mash the banana until wet.
Whisk in egg, then milk + vanilla.
Mix in flour, chia seeds, cinnamon and baking powder.
Pour into baking dish + bake for 30min.  The top will be cracked and the edges will pull away from the dish.
Slide a knife around the edge of the dish, and flip over onto a plate. 
Flip over + top away!  Or, cut in half and eat sandwich style.
I really enjoyed the oat flour for the bake.  I would say that I prefer the oat flour flavor, slightly more than buckwheat flour flavor.  However, buckwheat bakes hold me over much longer and are slightly more nutrient dense.
Chris + I spent another full day at the house, focusing on taping + painting. 
It's really hard to tell what the color actually looks like from where we were cutting it in, but it's a light creamy/gray.  The main living room has 1 full coat on now and we love the color.  It's going to look much better when paper is pulled off the floor, because right now everything has a pink glow to it!
We used the Mythic paint [non-toxic, no-VOC] for the main living space walls.  I thought we would only need 1 coat, but the wall texture just wasn't cooperating.  After letting 1 full coat dry, we could see white coming through in numerous spots.  I applied a fairly thick coat, applied quite a bit of pressure, and used a 3/4" roller head, but not of that was enough. 
I need to keep my painting game face on and get the walls wrapped up this week!
Maybe this is why I fall off ladders…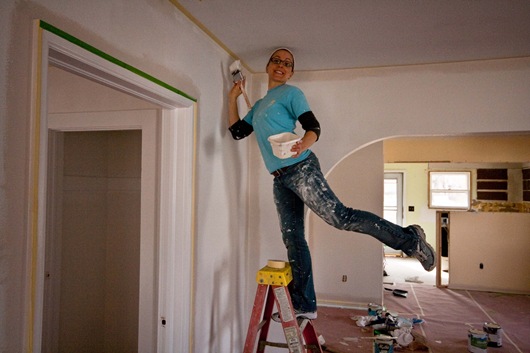 Wacky wide-angle view!
Back to work on the walls tomorrow.  I also need to pick up paint for the bedrooms.  I think it will be something similar and pretty neutral.  It's hard to do anything too creative, color-wise right now, since the house is completely empty.  Once we're in the house for awhile and get all of the important things done, then I'll consider applying some fun accent colors.
Monday to-do:
order back splash
order tile
order 2 ceiling fans
donate old fans
list stove on craigslist [that was left in the house]
buy bedroom wall paint
put on 2nd coat in living room + 2 coats in dining room
order new 2 new smoke detectors
grocery store
pack
Oh my my my…we'll see how much of that I actually get done!
Ashley