We ran a few errands this morning and then picked up bagels.  I couldn't believe it, but with my early bedtime, I was wide awake at 7:30am! Typically, when we get bagels [not often], we go to Rocky Mountain Bagel Works.  They are always doughy + delicious and they have a fabulous selection.  They also always have 1/2 dozen day-old bagels for about $1.99.  Total score!  Today, we were closer to Gib's Bagels, which I thought I had heard good things about.  I was completely disappointed and would never buy bagels there again!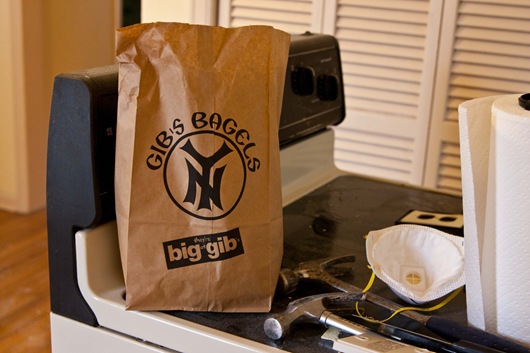 For a Sunday morning, you'd think they would be bustling.  From outside, they looked closed.  Their bagels were picked over and none were hot n' fresh.  They were also more expensive than RMBW.  This wasn't an out-of-the-way store, either.  It is in the heart of downtown!
It looks like I'm eating a "plain" bagel right?  Well, this was actually the multigrain.  It was basically a plain bagel with 6 flax seeds thrown in.  The pumpernickel bagel was a light brown [typically realllly dark] and the salt bagels had about 8 chunks of salt on top. 
They were not fresh or doughy tasting.  I don't give a lot of negative reviews and hate to talk badly about a local bagel shop, but this was really disappointing!
Moving on….
Today, Chris + I worked on taking all of the framing off from around the windows.  It was quite the task!  This little house has 14 windows.  To put new windows in, we have to take all of the framing off.  We're getting new windows because the originals are in poor shape.  The glass is extremely thin, and a handful of the windows are badly cracked.  Most of the locking mechanisms don't work, and some of the wood is starting to sag.  They are also terribly inefficient!  While I would have loved to save these historical windows, replacing them before we move in, will be so nice.
Check out this old-school window pulley system!!  SO COOL!  I would love to keep those pulley weights and turn them into something artsy.  Any ideas?  They weigh a few pounds each.
I wanted to show "before" photos of all the rooms. 
Master bedroom – That double window is at the front of the house.
Master bedroom – Standing at the double windows.  Right door is a closet, Left door goes to the bathroom.  Someone living there was handicapped, so there are a few large doors.
I don't really like how this door from the Master goes right into the bathroom.  I wouldn't mind if it was a master bathroom, but this is the only bathroom in the house.  We'll be patching up the doorway, to gain more usable wall space.
There is something about this photo that I love!  I'm standing in the dining room, looking to the front of the house.  The door forward and to the right is the master bedroom. 
Family Room – Looking into dining + kitchen
Dining room – Looking right
Standing in the dining room – Left door –> master – Right doorway –> small hallway to office + bathroom to the left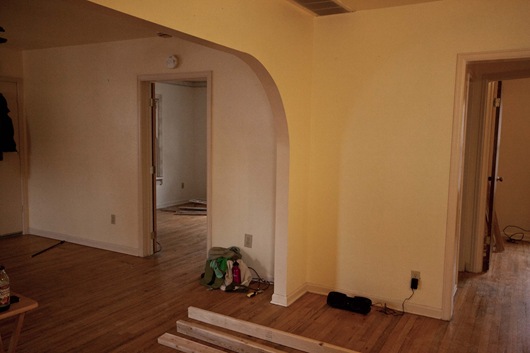 Office [or bedroom]
Standing in what will be our office.  It's definitely big enough for a bedroom, but we're going to use it as an office space for now. You can see a tiny bit of the arched wall from the family/living room.  Bathroom door is to the right.
Lovely bathroom.  This will be a remodel project in a year or two.
Bedroom/Laundry – Standing in the kitchen, by the back door, looking into the 3rd bedroom.
Bedroom 3 – Looking into kitchen.  We're going to build out this closet a bet and section it off for the stacked washer + dryer.  It definitely takes up some closet space, but is MUCH better than being in the kitchen!
Kitchen progress!!  The doorway was shifted and the drywall was cut where our window punch through will be located.  Next step is getting an electrician to do a little re-wiring.  Then we'll cut the window, and put up new drywall, where needed.
Everything is running as smooth as possible, so far.  I'm sure we'll run into some hiccups along the way, but so far we're really moving along!  We couldn't be more excited.
I came home, cut up a sweet tater, and cooked the slices low + slow style.  I haven't done that in way too long and it's oh.so.delicious.
I've received about 10 lighting homework assignments so far, which is extremely exciting.  I haven't had the chance to really look at them yet, but I can't wait!!  You still have time to submit through Tuesday morning.  I'll plan that post for Wednesday.
A new recipe is coming tomorrow afternoon…promise!! :)  A few house things in the morning and hopefully placing a HUGE Ikea order.  Woohoo!!
Byeee for now!
Ashley