Somehow I gave off the impression that I'm organized.  I may look organized, but I do not feel organized!
Organized chaos?  Yes, there we go.
This was the mess after cooking grains + beans.
I made a huge breakfast mess too.
Speaking of breakfast…
While breakfast was baking, I whipped up a batch of tile/tub/counter scrubber.  It's so easy to make it hurts!  All you need is liquid castile soap and baking soda.  It works amazingly!!!  You can chunk those bottles of soft scrub out the widow.  This smells great [I used peppermint soap], doesn't make you dizzy from chemicals, and is safe to go down the drain!
Check out this post for all of the details on my natural cleaners.  I've definitely saved a lot of money making my own cleaners + brain cells!
I whipped up FOUR buckwheat bakes this morning!  It only took about 10min total as I was flew around the kitchen throwing nuts + groats + frozen fruit all around.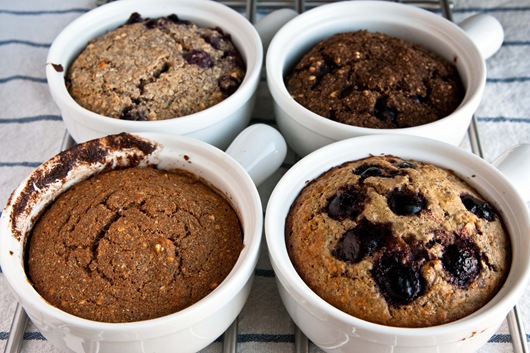 I wanted to freeze 3 to have on hand for quick + clean breakfasts in the morning, while we have no oven!  The fourth was for this morning.
Cherry Almond Buckwheat Bake!!
I'm plowing through the maple cinnamon almond butter too.  It is just so freaking delicious!
I chopped up the almonds + hid them inside before baking.  There was so much crunch + chew!
I savored every bite!
Sneak peak!!!  It's hard to tell what the paint looks like, and honestly not much paint will actually be showing when all is said + done.  We'll install backsplash + the upper cabinets go all the way to the ceiling.  The color is a very light blue/gray.  It's so refreshing + calming + light!  Just what I was going for.  To save paint, I didn't paint behind where the upper cabinets will be mounted.
The bathroom is also now white!  I don't love that it's so bright white, but we had the paint and it's WAY better than the green.  I scrubbed the HECK out of the bathroom and it's sparkling!!  A lot of progress was made today.  It's finally starting to look like a house!  More photos soon to prove it. ;)
This photo was from 10 days ago…I can't believe it!
Here are my beans.  Ready for the freezer!!  I didn't look up a method for this, but boiled them until fully cooked, then drained, then rinsed with cold water until fully cooled, then drained, then bagged, then popped in the freezer!
Same for the grains!  Farro on top, short grain brown rice on the bottom.  Chewy deliciousness!
B
E
D
!!!
<3