#1 – I've mastered the "U" shape tile cut.  Ohhhh yaaaaah.
#2 – Our house is a mess, yet again.  Although not as bad as it was a week ago.
#3 – The dogs are doing nothing to help.
#4 – This just CANNOT be comfortable.
#5 – You would think those long limbs would be good for cleaning things or installing tile.  False.  She hasn't lifted a finger…errr toe...errr paw.
#6 – In ONE + A HALF weeks, this is our laundry pile.  Absurd!
#7 – Signs of spring are popping up and the grass is actually green.  Very unusual for Colorado!
#8 – This oven has been covered in plastic since March 4th.  Maybe we should try and get rid of it?
#9 – If you want to bake a HUGE sweet tater, with 2 different seasoning styles, just build a foil wall down the center.  Works like a charm. 
#10 – This is the track lighting above the stove.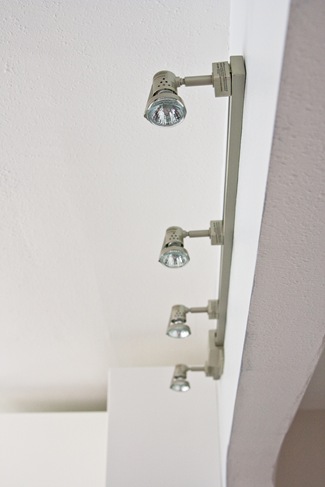 #11 – I ground some almond butter when I was at Whole Foods last night.  Sometimes I just can't help myself.  The texture cannot be duplicated at home.  I've tried.
#12 – I'm out of buckwheat flour + too lazy busy to grind more.
#13 – I love.love.love. salad.
Random Facts Tuesday is to be continued…
Back to the tile!!