Yesterday's agenda:
work our booties off for the next 3.5hrs
head to Pat + Nat's [bro in law + sis in law] with my mom to visit
head to Denver to pick up my mom's necklace
head to REI for my mom to try Merrel's minimalist shoes
meet up with Melissa + Sammy!
do some shopping at Cherry Creek Mall
grab dinner…not sure where yet!
see the movie Bridesmaids
pick up Chris from the airport!
Pretty productive, right?
Here's a little glimpse at everything on the list!
The work started in the master bedroom.
I attempted to install our ceiling light.  First remembering to turn the breaker off. :)
Success!  Lovely white light!
Then there was cleaning. 
After 1 week of not vacuuming, this is the massive pile of Kenna + Dakota hair floating around the floor.  Aren't you glad I documented this?
Can you tell what's new in this photo?
Now?
I showed you the new counter the other day, but I just finished painting the underside of the archway!!  My mom and I also put together a little flower arrangement.
We decided to go with a very deep blue/gray color for the archway.  It contrasts with the backsplash and adds a bit of warmth to the kitchen.  It's a bit brighter in person, and I'm loving it!  Such a quick and easy improvement.
Now, to the spare bedroom!  It's coming along!!
We bought dark gray sheets, a polar fleece blanket for under the quilt, matching shams, and 2 throw pillows.
I thought the matching shams might be overwhelming, but I think it turned out great, especially with the throw pillows.  It's hard to tell, but the yellow has lines of white thread running through it.  I'll still decorate a bit more at some point with a few artsy touches, a lamp, etc.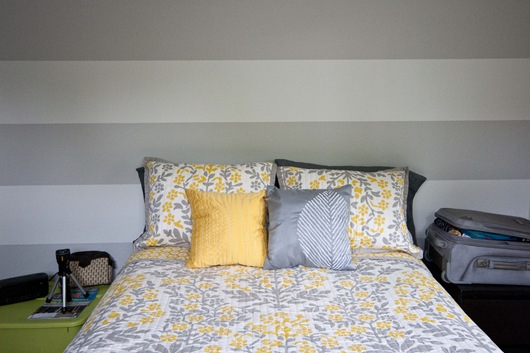 My mom is the best shopper + house helper!
I love when the dining room table is clear.  It's not frequent!
Woof!
A little better show of the archway.
And archway number two!  It compliments the gray of the couch + the chair [charcoal grey], without being overly matchy.
da-da-da-daaaaa
Quite the improvement from this!
Besides the bedding, do you spot something else that has changed? 
We have window trim on every single window!!!  My uncle was busy while I was gone in Ohio.  He did an amazing job and it really made a HUGE difference.  Every room feels MUCH more finished now.
We also picked up cute square base + square shade lamps from target, along with small matching alarm clocks.  I was really sick of my gigantic CD player alarm clock from 1999.  It's in the donate pile and Chris's old alarm clock was moved to the spare bedroom.
The duvet + shams are amazing.  The light wasn't the best when I took these.  They have a bit more detail in them than you can tell here.  There is a light checked pattern going through the leaves.  The duvet is super soft and I absolutely love our down comforter.  My parents bought us one from Bed, Bath and Beyond as part of our wedding gift, 3 years ago.  We're finalllllyyyyy getting to use it! 
Here are a few better photos showing the rocks in the counter.
We headed to Westminster and had a nice visit with Pat, Natalie, and Nat's dad.  Natalie is due in only 6 weeks!!  My mom + dad gave them a very cute bath-time themed gift!
Then we headed to the flagship REI in Denver.  It's probably the most amazing store I've ever been in.  If you're visiting Denver, you must check it out!  We finally saw the sun, too.  It turned into a gorgeous day.  [view outside of REI]
Cute momma!
Hat day!
We caught up with Melissa + Samantha at Cherry Creek Mall.  Such a little peanut still!!
My mom got her birthday necklace!
We of course had to check out Anthropologie.
It was hard to leave there empty handed!  Sammie was perfect.  We didn't hear a peep from her!
Such a nice visit with the girls.
Then the 4 of us headed to Vine Street Pub, in Denver.  Such delicious + affordable food.  One of our favorites, that we really miss in Ft. Collins.  They offer a large menu, with awesome daily specials.  They even have a daily hummus!  There is something for everyone here.  GF, vegetarian, vegan + meat lover friendly
After dinner we headed to the airport to pick up Chris.
Look at this cute face.
I'm feeling a bit like Sammie right now.  Sleepy!
Time for bed!
We're sleeping in tomorrow.
Ashley