This morning was poppin'!
My mom was curious to try puffed amaranth cereal so I popped some for us to share.  She added hers to a bowl of EnviroKidz gluten free peanut butter cereal and liked it.  She tried a spoonful plain and wasn't as big of a fan.  It is very plain tasting but I just love the texture and have so much fun with the mix-ins.
I picked up a variety of freeze dried, no sweetener added, fruit recently and thought it would be an awesome addition for this cereal.  Kind of a fun play off of fruity pebbles.  Only quite a bit healthier. 
In the bowl were bananas, strawberries, blueberries + mango.  It added so much delicious, fruity crunch!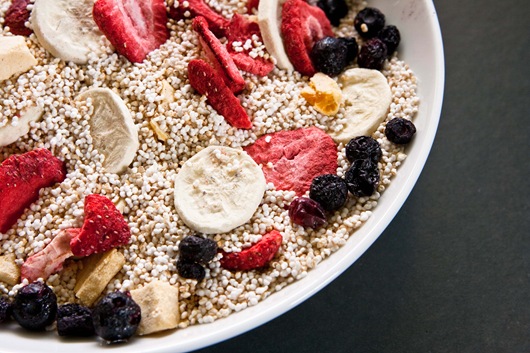 I also topped it with a glob of PB and almonds.
Then came the almond milk, with a little honey whisked in.
Here you can check out my popped amaranth tutorial.  I also have a few more puffmaranth recipes on my recipe page.  Such a fun change of pace for breakfast. 
Pouring in the milk is a bit dangerous.  It creates a wave in the bowl.  There is always some spillage. ;)
After breakfast, we relaxed around the house, which was so nice.  I did manage to put in another light fixture today though.  This one took quite a bit longer, and was definitely frustrating.  But it's up and looks great!  The new fixture is in the bathroom.  We're just adding a few little touches in there, to make it a little more "us."  We eventually want to remodel the bathroom, but that won't be happening for some time.
Kenna is a bed hog.
And Dakota wasn't happy about it.  She's really prissy and will rarely lie on the hardwood floors.
We finally saw the sun today, but it was extremely windy!  It was only in the mid 60's but the rest of the week is looking much better.  We drove around through town and had to stop by my mom + dad's very first house!  My dad moved to Ft. Collins while dating my mom.  He bought this house, and after they got engaged she moved to Colorado with him.  To make a long story short, the real estate [dad's biz] was tanking and my mom couldn't get a speech teaching job without a masters, so they moved back a year later.  I can't believe our first house was in the same town!  There are some other coincidences about our relationships.  We started dating the same year + month in college as my parents and my mom and I are both slightly older than the husbands.  We also both got married the same amount of years into the relationship.  Pretty funny!
We took my mom to one of our favorite spots, Equinox Brewing.  My mom's not a beer fan really at all, but gave the golden ale a try.  She needed something a bit fruitier. :)
I of course had a half pint of the brown ale.  mmmm
After the brewery, we hit up another brewery, but for food!  This is actually a brand new restaurant at Fort Collins Brewery.  It's called Gravity 1020.  When I heard a new "farm to fork" restaurant was coming to Ft. Collins, I could hardly wait.  There are a ton of restaurants in Fort Collins, but so far, only a handful that I really like.
I checked out the menu ahead of time and called to ask about gluten free/vegetarian options.  The menu was much smaller than I had anticipated with what looked like only one veggie option.  It was for a parmesan veggie risotto that sounded fabulous, but I wanted to make sure it was something I could eat.  When I called to ask about it, they informed me that it was made with chicken broth, not veggie broth.  I was completely shocked about this.  I bet quite a lot of people order this dish, thinking it's vegetarian!
It was a 7 entree menu + 2 sandwiches, with no vegetarian options.  For a new restaurant, featuring local/organic fare, I was quite disappointed.  The kind employee on the phone informed me there was a cremini mushroom sandwich that they could most likely serve to me without the bread on salad, but when we arrived, I found out that wouldn't be possible.
I still kept a positive attitude and searched the menu a bit more.  Out of 3 salads, only 1 was veggie.  I ordered the baby romaine salad with pistachios + oranges.  I also ordered the daily soup special, which was cream of mushroom [made with veggie broth].
The consistency was smooth and it was extremely flavorful.  The melted cheese on top and cremini mushrooms were delicious.  The only thing I didn't like was that it was quite spicy.  I don't think the spice was needed at all.  The flavors were perfect and the spiciness interrupted them.
Chris ordered the fish and chips, which he said were really good.  The orange fennel slaw was just okay. 
My salad came out and looked delicious.  The portion was quite large, which you seldom find for a salad!  The lettuce was outstanding.  I know that's weird to say, but it was the softest, fluffiest lettuce you've ever eaten.
It was served with a house made vinaigrette, that was infused with their pomegranate wheat beer. [I realize beer is not gluten free, but for some reason my stomach has been tolerating beer fine.  Very odd.] The dressing was really tasty.  Not too oily and a nice mellow fruity flavor.  The salad came with pomegranate seeds, and fresh local goat cheese, which were for some reason not mentioned on the menu.  I'm not complaining about local goat cheese, as it was amazing.  However, if you're not a fan of goat cheese or pom seeds, it would be a surprise when the salad is set in front of you.  The main components, oranges + pistachios, were sparse.  Overall, I loved the salad, but wanted more pistachios. :)
My mom ordered the same salad + local pork slider appetizer.  She said her first bite, with just the pork, was amazing.  They infuse one of their beers into the sauce.  However, the second bite set her mouth on fire.  Something in the slaw was overwhelmingly spicy.  There was absolutely no mention of this being a spicy dish on the menu.  Major bummer.  She ordered the polenta "fries" appetizer instead, which she said were good.
When dining out and spending good money, I definitely really analyze the meal.  Overall, I was just a bit surprised.  I think the biggest shortcomings were the small number of entrees, no vegetarian entree option[s], and not being specific enough with menu descriptions.  It's extremely common around here, especially new restaurants featuring local foods, to have a handful of vegetarian options [if not vegan], and a lot of times a gluten free menu.  I know their menu will be changing frequently, with what's in season, so I'm hoping they might expand it a bit too.  We'll see!  The quality of the food was definitely top notch and the presentation was great.   
Lights out!
Ashley