A few weeks ago, I had the pleasure of shooting
Alyssa
, her husband + their dog Beau!  I officially met Alyssa last year, at the
Foodbuzz
festival, but she actually lives about two hours South in Colorado Springs.  Alyssa contacted me a few months back, asking if I could take their two year anniversary photos.  I was honored she asked!
For their shoot, we headed to
Old Colorado City
+
Garden of the Gods
, both in CO Springs.  This was my first real "couple" shoot, so of course I was a bit nervous.  We walked + chatted for a few minutes to catch up and then got to business.  My nerves vanished as soon as I started clicking away.  Alyssa + her husband were adorable and so easy to work with.
Beau, however, was definitely testing me!  Moving subjects are much more complicated to photograph than food! :)
So sweet.
Good dog!
And can I just say…how gorgeous is Alyssa??  Her outfit, boots, hair, and that smile?  Beautiful!
These two are definitely still smitten over each other!
We headed to Garden of the Gods for the second round of photos.  I had never been there before and was in complete awe.  The landscape is breathtaking!
Love this one.
Love the next two shots that are a little more intimate.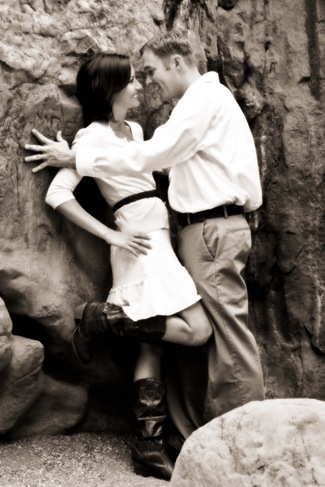 Happy Anniversary to a super sweet couple!
Off to do that thing called sleep!
Ashley
Thank you all SO very much for your congratulations + support about my photos being published in
Mama Pea
's cookbook!  It really means so much, and I couldn't be more thrilled to have been a part of it.  HaPPiness!!