I'm such a good sister.
My brother wanted to take me to a vegan + gf friendly restaurant in Lakewood, called The Root Cafe.  The only time that would work was Wednesday for lunch.  My brother works fro my dad and their lunches typically last about 30min.  Lakewood is about a 35min drive from where they work, meaning if we did this, it would take at least 2hrs of time.
I worked my daughter magic and convinced [really it wasn't that hard] my dad to let my brother have an extended lunch today.
I'm such a good sister.
And Josh is such a good brother!  He's been here numerous times and knew I would love it.  Boy was he right!  The moment I walked in I loved it.  It was a nice large space, with a great atmosphere inside.  It felt very cafe-like, but they also have a full food menu and turn into a bar at night.
Their menu ranges from pizza + calzones, to burritos, salads, and sandwiches.  Most of the menu is vegan and everything [or nearly everything] can be made vegan.  There were even a handful of GF options.  A lot of the ingredients come locally and they offer in season specialties as well.  They have some standard items on the menu, but many of the items are extremely creative.  Their prices were very reasonable, especially for the fresh, high quality ingredients they are using. 
There are sandwiches with tempeh, some with hummus, loads of veggies, pizzas with kale + beets, etc.  The Root Cafe also has vegan baked goods and they had 1 GF sunbutter cookie that sounded delicious.  Next time we'll have to go for coffee + dessert…okay, and dinner!
I love the restaurants in Ft. Collins, but they really need an addition like this!  Affordable, delicious + extremely welcoming.  The staff was all smiles and so helpful about making sure I had something that was gluten free. 
I decided on the beans + rice with broccoli + a ring of kale.  Beans + rice sounds kind of boring and may look a little boring too.  However, it was the perfect portion and the flavor exceeded my expectations.  Nothing was overpowering, there was the perfect amount of cheese, and the ring of kale was a great crunchy addition.  The dressing on the kale was phenomenal.  My brother agreed about my meal.  He even liked the raw kale!
What did Josh get?  A calzone stuffed with:
beets
sweet taters
gorgonzola
provolone
red sauce
Somehow, that combination works.  I'm not a beet fan, but my brother raved about it.  The calzone was $10, but was gigantic, and my beans + rice were $8.
We also ordered a side of perfectly cooked + lightly seasoned cubed sweet taters.  To not be drenched in oil or fried was miraculous.  These babies looked oven roasted!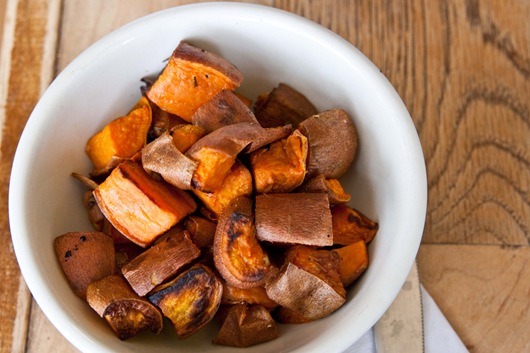 The roasted red potatoes were delicious as well.  I think the sides were $1.50-2.00.  Not bad at all!
The beet calzone!
And the guts.  Literally! 
I was one happy foodie in this place.  We even got to talk to the super sweet owner, Julie, who reads my blog!  If you're in the Cleveland area, you must check out this place out!
After lunch, we headed to Nature's Bin, a natural food store in Lakewood.  It was like a mini Whole Foods.  I love little food stores like this!!  Thanks Dad, for giving Josh a largely extended lunch!
What else did I do today? 
hit up Trader Joes, to buy my favorite goodies to take home to CO
visited my grandma + grandpa
visited my other grandma
made a gigantic mess in the kitchen
started packing to go home
blog work
Then, after dinner, my mom, dad, aunt, AJ, Jenna + me set off to Jeni's ice cream again.  We were about half way there when we got a phone call from my uncle saying there were severe storms headed our direction.  We looked to the left + the sky was turning darker by the second.
We got home as quickly as possibly, with one stop on the way.
Thanks to a few readers who let me know Heinen's carries Jeni's ice cream!!!  We drove right past on our way home, so I stopped in and picked up a few flavors.
We turned the TV on, and watched a lot of "tornadic" action, but luckily not much happened.  The weather around here has been extremely unpredictable lately!
After we saw that we were in the clear, I practically ran to the freezer and started digging in.
Salted caramel – it's like a slightly burnt, salted, caramelly marshmallow
The Buckeye State – a play on "Buckeyes" choco/PB candy - fabulous, slightly gritty [in a good way] texture, filled with chocolate + pnut butter bits and a lovely vanilla ice cream
[apologies for the horribly lit + grainy photos]
Nothing better than a food + family filled day!!  Just wish Chris could have been here.
My mom and I leave for CO tomorrow evening!
Off to continue with the packing…
Ashley